Energy from a wind tree
An innovative small-scale power plant generates environmentally friendly energy in Gerlingen
A small-scale green power plant for the city: Endress+Hauser Liquid Analysis operates a wind tree in Gerlingen, Germany. The tree is nearly 10 meters high with a metal trunk and wind turbines made from green plastic that resemble large leaves. The 4,000 watt turbines produce around 3,200 kilowatt hours of electricity per year, enough to supply a one-person household.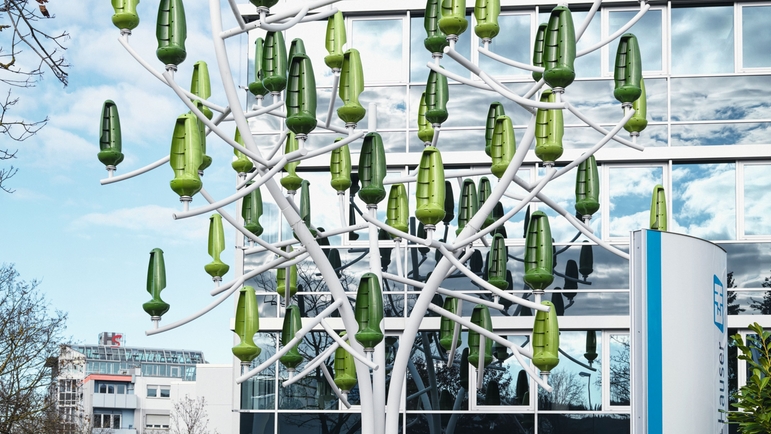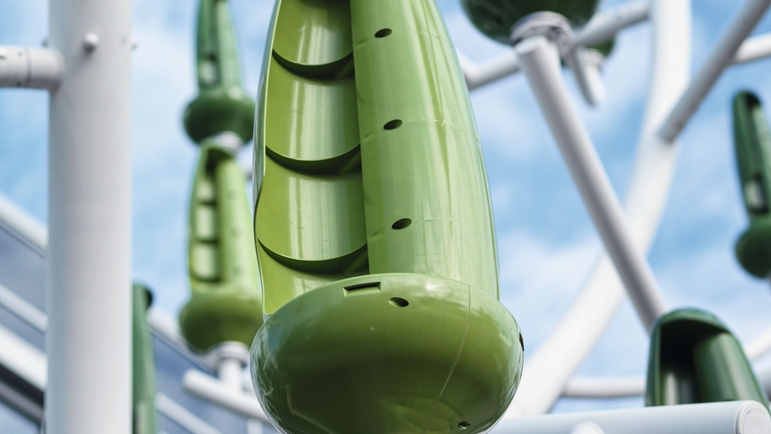 Small but potent
Compared to a large wind turbine, that doesn't seem like much. But this small power plant offers key advantages. The small dimensions make it suitable for installation in urban environments. The 54 mini turbines are designed to be nearly silent and utilize any form of wind, even turbulent air flows that often occur in developed areas. According to estimates, the small-scale power plant can thus operate 320 days a year in normal wind conditions.
An eye on efficiency
"The wind tree is a visible of our commitment to treat our environment responsibly," says Manfred Jagiella, Managing Director at Endress+Hauser Liquid Analysis. The company has pursued a sustainable energy concept for years. As part of the expansion in Gerlingen, the building technology was designed for energy efficiency from the ground up and has been optimized continually since then. The company was certified for energy management in accordance with ISO-50001.
Sustainably clever
The heart of the concept is a natural gas cogeneration plant that supplies electricity and heat for the location, the latter being converted to cooling when needed. Fresh air is fed into the building via six ground collectors. Pipes integrated into the foundation warm the outside air in the winter and cool it in the summer. The glass façade has a special coating that provides a high degree of insulation. Grass-covered roof surfaces improve the building's climate.
Green energy for e-vehicles
A photovoltaic system was also installed, generating electricity that flows into an innovative redox flow power battery that in turn feeds an e-vehicle charging station at the location. Energy from the wind tree is fed into the charging station as well, making environmentally friendly mobility a beneficiary. "That means our own vehicles, as well as our visitors' vehicles, are operating with climate-friendly, autonomously generated energy," says Manfred Jagiella.
Simple products

Easy to select, install and operate

Technical excellence

Simplicity

Standard products

Reliable, robust and low-maintenance

Technical excellence

Simplicity

High-end products

Highly functional and convenient

Technical excellence

Simplicity

Specialized products

Designed for demanding applications

Technical excellence

Simplicity

FLEX selections
Technical excellence
Simplicity

Fundamental selection

Meet your basic measurement needs

Technical excellence

Simplicity

Lean selection

Handle your core processes easily

Technical excellence

Simplicity

Extended selection

Optimize your processes with innovative technologies

Technical excellence

Simplicity

Xpert selection

Master your most challenging applications

Technical excellence

Simplicity