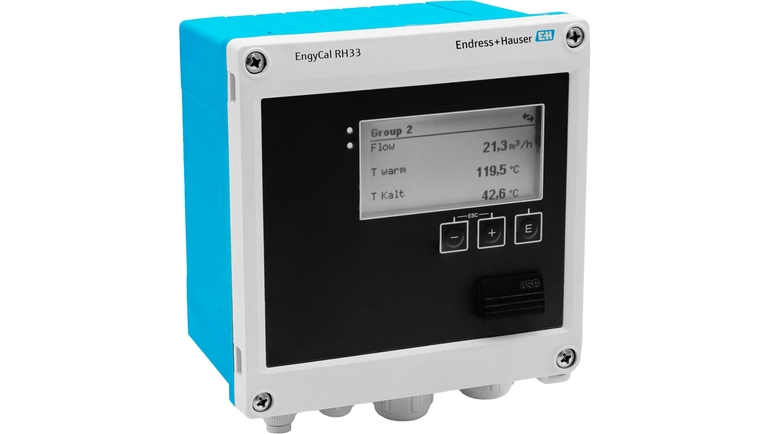 Custody transfer BTU meter for recording heat quantities of water
The BTU meter RH33 is used in applications with liquid energy carriers.
It calculates the thermal energy of water acc. to EN1434, glycol/water mixtures or other fluids such as thermal oils. Temperature sensor matching using calibrated temperature sensors is done in the device.
Potential for cost savings can be shown by using the software available as an accessory.
The device has a custody transfer approval and allows bi-directional measurement, e.g. charging/discharging of a heat accumulator.
Simple products

Easy to select, install and operate
Technical excellence
Simplicity
Standard products

Reliable, robust and low-maintenance
Technical excellence
Simplicity
High-end products

Highly functional and convenient
Technical excellence
Simplicity
Specialized products

Designed for demanding applications
Technical excellence
Simplicity
FLEX selections
Technical excellence
Simplicity

Fundamental selection

Meet your basic measurement needs

Technical excellence

Simplicity

Lean selection

Handle your core processes easily

Technical excellence

Simplicity

Extended selection

Optimize your processes with innovative technologies

Technical excellence

Simplicity

Xpert selection

Master your most challenging applications

Technical excellence

Simplicity
Specs at a glance

Input

1x Puls/Analog
2x RTD/Analog
Loop power supply 24V DC (+/-16%)

Output

1x 4...20mA
2x digital (Open Collector)

Display

160 x 80 Dot-Matrix LCD with white backlit
colour change in case of alarm event
active display area 70 x 34 mm

Calculations

heat quantity and heat quantity difference
Quick selection
Choose from our suggested options
Individual configuration
Continue your selection from all possible options
Additional components

Benefits

Transparent energy consumption helps you save on energy costs

Calibrated, electronically paired temperature sensors ensure the highest accuracy and enable replacement of individual temperature sensors even for certified devices in the field (without...
Field of application

Recording and billing the quantities of heat and cold in:

Heating circuits

Cooling circuits

Combined heating and cooling circuits

Typical application areas in industry, long-distance heat networks and building automation.
Documents / Manuals / Software
Accessories / Spare parts
RH/RS/RA33 pipe mounting set

RH/RS/RA33 mounting set wall

Nr

5

Order code

XPR0001-SK

Cable entry set panel mounting: 4xM20, 2xM12, 1xM25

Terminal strip 3 pole FMC1,5/3-ST-3,5

for digital I/O and RS485

Nr

4

Order code

XPR0001-SP

Small parts set: hinge pin, pressure compensation element, USB-cover, seal panel

Nr

3

Order code

XPR0001-CP

Cover electronic internal for RH33 + RS33 incl. screws (for Mainboard + CPU card)

Nr

2

Order code

XPR0001-UT

Housing lower for Rx33 incl. counter plate (please order name plate separately with DIENST-T)

Nr

8

Order code

XPR0001-KA

Nr

8

Order code

XPR0001-KB

Communication board USB + Ethernet + Modbus TCP

Nr

8

Order code

XPR0001-KC

Communication board USB + Modbus RTU (RS485)

Nr

8

Order code

XPR0001-KD

Communication board USB + M-Bus (for RH33 and RS33)

Field Data Manager Software MS20

Visualization software and database for visualization of historical data like measured values, calibration or configuration. Manipulation protected SQL database, graphical visualization, tables for measured values, alarms or events, online help, user administration, Automatic read out of device data. Automatic data export in various formats or in secured format for backup or reduction of database. Note: The version FDM essential only supports RSG30, RSG35, RSG40 as well as RSG45 and has a restricted functionality.

RTD Thermometer TR10

to screw in. Thermowell acc. DIN 43772/2G+3G. Replaceable insert, MgO. max.measuring range: -200...+600oC. (depending on configuration).

Insert TPR100

Mineral insulated cable (MgO). Replaceable insert acc.EN60751. max. measuring range: -200...600oC (depending on configuration).
Success stories
Sichere Druckluftversorgung

Endress+Hauser (Schweiz) AG unterstützt Kunden bei der Optimierung der Verfügbarkeit und Leistungsfähigkeit ihrer Druckluftanlagen.

Ziel erreicht - bei Wander AG

Die Firma Wander AG geht auch beim Abwasser auf Nummer Sicher. Kontinuierliche Abwasserkontrolle erhöht Sicherheit und Transparenz
Durchgängiges Engineering

Von der sicheren Auswahl der richtigen Messtechnik, gerätespezifischer Dokumentation, korrekte Elektroplanung bis zur Detaillierung durch Zeichnungen oder Modelle: Wir unterstützen Sie.