Green construction
An energy-autonomous, CO2-neutral customer experience and training center was built in Canada 
The Endress+Hauser Group has invested 20 million euros in a completely sustainable building. The customer experience and process training center in Burlington, Ontario, roughly 50 kilometers southwest of Toronto, is energy-autonomous and CO2 neutral. It covers all of its energy needs with local regenerative sources.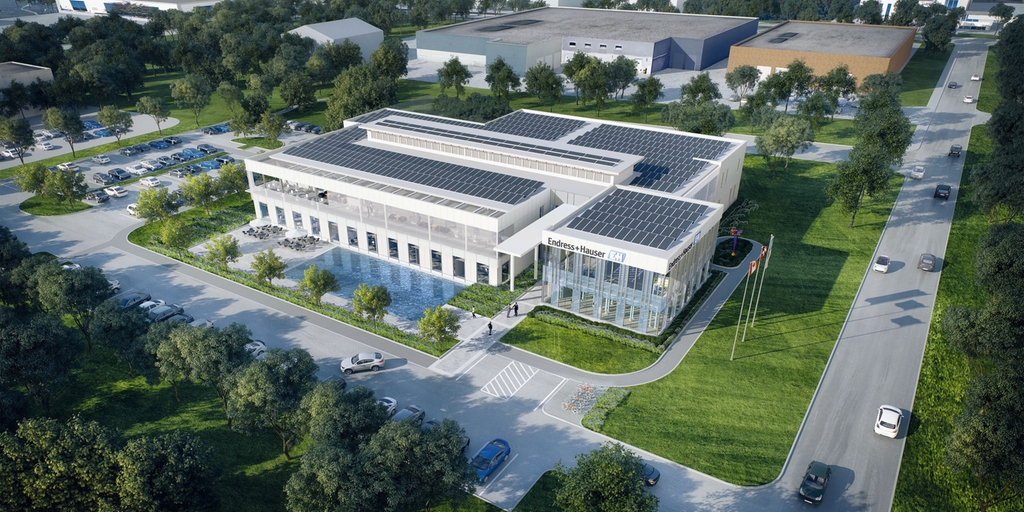 "Our goal was to create an exceptional facility that will not only be sustainable on the day it opens, but will still be considered as such decades from now," explains Anthony Varga, Managing Director, Endress+Hauser Canada.  
The building in Canada covers its electricity needs with more than 800 solar modules installed on the roof. These panels can generate around 408,000 kilowatt hours of electricity on an annual basis, exceeding the needs of the building so that electricity can be fed into the grid. A geothermal system draws heat from 50 wells at a depth of 180 meters and distributes it across the entire building via 63 heat pumps. 
Tree-adorned atrium
The customer experience and process training center opened in the spring of 2022. Among other things, customers can use a training center in the facility to familiarize themselves with Endress+Hauser process technology. "All of our customers and partners can simulate process conditions like the ones they have at their own plants," says Anthony Varga. At the heart of the building there is also a four-meter-high ficus tree, which symbolizes the "green" idea and also improves the air quality.
Ecological new construction
Endress+Hauser's production is not energy intensive and has little impact on the environment. One of the biggest contributors to the ecological footprint is the building infrastructure. With this in mind, the Group designs new buildings with green aspects and meets demanding energy efficiency standards. Thanks to all of these measures, the building is one of the greenest structures in the country.  
Endress+Hauser is the first private company to strive for all three certificates from the Canada Green Building Council: Net Zero Energy, Zero Carbon Building Standards and the Leadership in Energy and Environmental Design (LEED) in Gold. 
Simple products

Easy to select, install and operate

Technical excellence

Simplicity

Standard products

Reliable, robust and low-maintenance

Technical excellence

Simplicity

High-end products

Highly functional and convenient

Technical excellence

Simplicity

Specialized products

Designed for demanding applications

Technical excellence

Simplicity

FLEX selections
Technical excellence
Simplicity

Fundamental selection

Meet your basic measurement needs

Technical excellence

Simplicity

Lean selection

Handle your core processes easily

Technical excellence

Simplicity

Extended selection

Optimize your processes with innovative technologies

Technical excellence

Simplicity

Xpert selection

Master your most challenging applications

Technical excellence

Simplicity