Sichere, effiziente Desinfektion
Der Memosens CCS51D liefert langzeitstabile Messungen im Trinkwasser, Schwimmbad- und Prozesswasser sowie allen Utilities.
Systematische Desinfektion ist ein grundlegender Schritt der Wasseraufbereitung und in vielen Bereichen gesetzlich vorgeschrieben, um Menschen und Systeme vor Krankheiten und Schäden zu schützen. Desinfektionsmittel wie freies Chlor oder Chlordioxid können in hohen Dosen jedoch toxisch wirken. Daher ist auch die Einhaltung der Grenzwerte für diese Substanzen von großer Bedeutung. Der neue digitale Sensor für freies Chlor, Memosens CCS51D, unterstützt eine sichere und effiziente Desinfektion mit seinen stabilen und schnellen Messwerten.
Benefits
Amperometrische, reagenzienfreie Messung von freiem Chlor

Membranbedeckter, wartungsarmer Sensor für langzeitstabile Messungen

Memosens-Technologie für höhere Verfügbarkeit des Prozesses
Sparsamer Verbrauch von Desinfektionsmittel
Freies Chlor ist dank seiner einfachen Handhabung, seiner stark desinfizierenden Wirkung und seines Depoteffekts das wichtigste Desinfektionsmittel in der Wasseraufbereitung. Eine präzise Steuerung der Dosierung von freiem Chlor kann jedoch nur mit einer schnellen und empfindlichen Messung erreicht werden. Memosens CCS51D besitzt eine spezielle Membrankappe, die extrem schnelle Ansprechzeiten ermöglicht. Er unterstützt Anlagenbetreiber dabei, ihre Desinfektionsprozesse innerhalb enger Grenzen zu fahren und Desinfektionsmittel zu sparen.
Sicherheit dank Langzeitstabilität
Memosens CCS51D ist mit einer konvexen Membran aus dichtem, schmutzabweisenden Material ausgestattet. Das vermeidet Ablagerungen und macht ihn extrem widerstandsfähig gegen Biofilm-Bildung. Die Membran ist per Ultraschall an die Sensorkappe geschweißt. Das stellt die Dichtheit des Sensors sicher, verhindert ein Auslaufen oder die Verdünnung des Elektrolyten und dadurch eine Drift des Messsignals. Dies garantiert langzeitstabile Messungen und gibt Wasserwerkbetreibern die Sicherheit, dass ihr Desinfektionsprozess zuverlässig läuft und die geforderten Desinfektionsergebnisse erzielt werden.
Höhere Anlagenverfügbarkeit
Der freie Chlorsensor ist mit der bewährten Memosens-Technologie ausgestattet. Memosens ermöglicht die direkte Inbetriebnahme neuer Sensoren ohne Kalibrierung vor Ort. Während des laufenden Betriebs können Anlagenbetreiber die Sensoren im Labor kalibrieren, im Feld einfach per Plug & Play austauschen und so schneller mit der Messung fortfahren. Darüber hinaus eliminiert die kontaktlose Datenübertragung sämtliche Messfehler oder Ausfälle durch Feuchtigkeit oder Korrosion.
Einfache Integration der pH-Messung
Die Desinfektionseffektivität von freiem Chlor hängt stark vom pH-Wert ab. Zur Kompensation dieser pH-Abhängigkeit muss eine pH-Messung in alle Desinfektionsprozesse mit freiem Chlor integriert werden. Memosens CCS51D wird an den Liquiline Multiparameter-Messumformer angeschlossen, der bis zu 8 Sensoren, also auch den pH-Sensor, gleichzeitig bedienen kann. Die Durchflussarmatur Flowfit CCA250 bietet zusätzliche Einbauplätze für eine einfache Installation des pH-Sensors.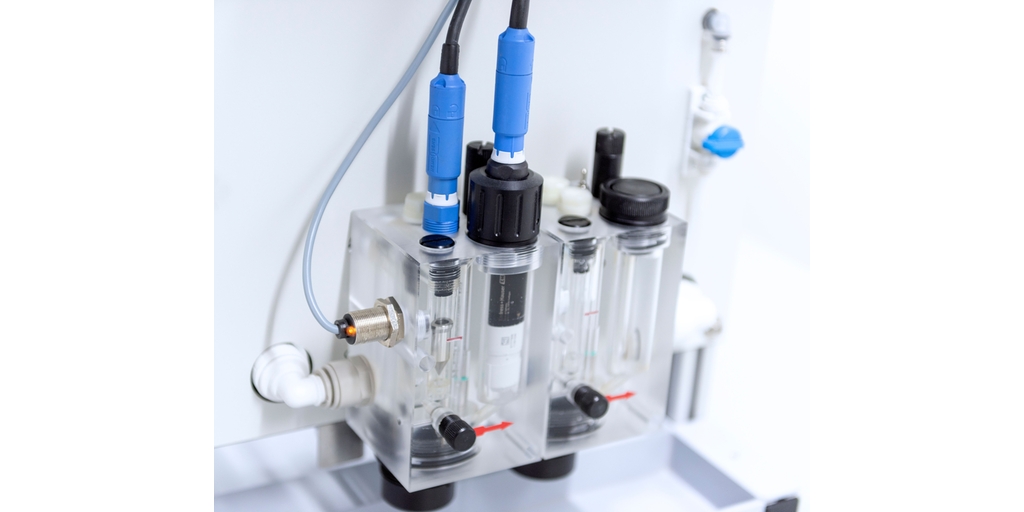 Related offering
Analytical monitoring panels

Improve your process quality and safety with our monitoring panels. They offer you a plug and play solution that combines best fit instrumentation with expert services to simplify your measuring task.
Simple products

Easy to select, install and operate
Technical excellence
Simplicity
Standard products

Reliable, robust and low-maintenance
Technical excellence
Simplicity
High-end products

Highly functional and convenient
Technical excellence
Simplicity
Specialized products

Designed for demanding applications
Technical excellence
Simplicity
FLEX selections
Technical excellence
Simplicity

Fundamental selection

Meet your basic measurement needs

Technical excellence

Simplicity

Lean selection

Handle your core processes easily

Technical excellence

Simplicity

Extended selection

Optimize your processes with innovative technologies

Technical excellence

Simplicity

Xpert selection

Master your most challenging applications

Technical excellence

Simplicity
Success stories
The all-round carefree panel

Water Analysis Panels make continuous monitoring of drinking water easy at the water treatment plant in Frasnacht, Switzerland.

Compliance made easy

The automated phosphate monitoring with Liquiline System CA80PH helps the food company Pasfrost ensure the compliance with the strict limit values for its industrial wastewater.
Sichere Trübungsmessung im Prozess- und Trinkwasser

Die Trübung ist der wichtigste kontinuierlich gemessene Qualitätsparameter in der Wasseraufbereitung. Mit Memosens-Technologie und hygienischem Design liefert der Turbimax CUS52D verlässliche Laborpräzision in allen Lagen.