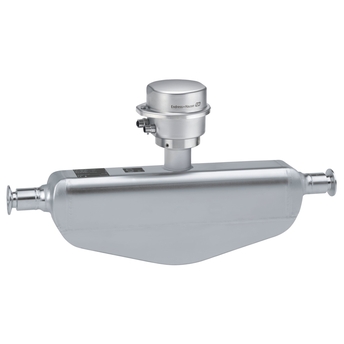 Loading price
Prices temporarily unavailable
Price on request
activating price
price: provide information
Specs at a glance
Max. measurement error

Mass flow (liquid): ±0.1 %
Volume flow (liquid): ±0.1 %
Density (liquid): ±0.0005 g/cm³

Measuring range

0 to 70 000 kg/h (0 to 2570 lb/min)

Medium temperature range

Standard: –50 to +150 °C (–58 to +302 °F)
Option: –50 to +205 °C (–58 to +401 °F)

Wetted materials

Measuring tube: 1.4435 (316L)
Connection: 1.4435 (316L); 1.4404 (316/316L)
Field of application
Promass P 100 offers the enhanced performance of a bent tube meter and the drainability of a straight tube meter without any compromise. Combined with the smallest transmitter housing available today it delivers full performance on the smallest footprint. Designed for applications in sterile environments where space is a premium, Promass P 100 will be the preferred choice for system integrators, skid builders and equipment manufacturers.
Measuring principle operates independently of physical fluid properties such as viscosity or density

Dedicated for applications under sterile conditions in the life sciences industry.
Device properties
ASME BPE, 3-A and EHEDG conform & low delta ferrite

Electropolished measuring tube in 1.4435 (316L)

Fast recovery from CIP/SIP

Robust, ultra-compact transmitter housing

High ingress protection: IP69K

Local display available
Benefits
Highest process quality – fully compliant to industry requirements

Fewer process measuring points – multivariable measurement (flow, density, temperature)

Space-saving installation – no in/outlet run needs

Space-saving transmitter – full functionality on smallest footprint

Time-saving local operation without additional software and hardware – integrated web server

Integrated verification – Heartbeat Technology
Videos
The Coriolis Flow Measuring Principle

Introduction of Proline Web server
Xpert selection
Specialized products

Designed for demanding applications
Technical excellence
Simplicity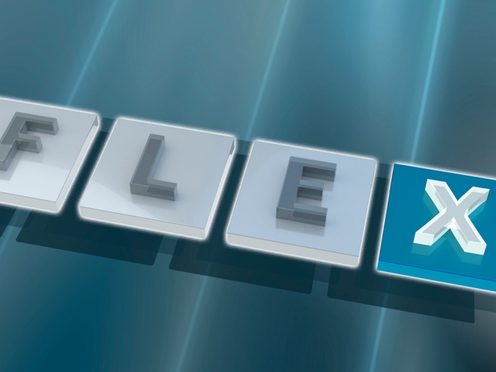 Simple products

Easy to select, install and operate
Technical excellence
Simplicity
Standard products

Reliable, robust and low-maintenance
Technical excellence
Simplicity
High-end products

Highly functional and convenient
Technical excellence
Simplicity
Specialized products

Designed for demanding applications
Technical excellence
Simplicity
FLEX selections
Technical excellence
Simplicity

Fundamental selection

Meet your basic measurement needs

Technical excellence

Simplicity

Lean selection

Handle your core processes easily

Technical excellence

Simplicity

Extended selection

Optimize your processes with innovative technologies

Technical excellence

Simplicity

Xpert selection

Master your most challenging applications

Technical excellence

Simplicity
Loading alternative products
Success stories
Measurable and testable: Monitoring with Teqwave

Efficient component cleaning is an important part of the production of industrially manufactured components. Borer Chemie AG therefore relies on the concentration measurement with Teqwave F, I and T.

Simplified quality control in distilleries

Waldbrand Destillerie uses Teqwave to continuously measure the alcohol concentration. The device can compensate for cross-influences and can be adapted to beverage-specific properties
Product headline

Specialist for life sciences with an ultra-compact transmitter.
Dedicated to applications under sterile conditions in the life sciences industry.

Sensor features

Highest process quality – fully compliant to industry requirements. Fewer process measuring points – multivariable measurement (flow, density, temperature). Space‐saving installation – no in-/outlet run needs.
ASME BPE, 3‐A and EHEDG conform & low delta ferrite. Electropolished measuring tube in 1.4435 (316L). Fast recovery from CIP/SIP.

Transmitter features

Space‐saving transmitter – full functionality on the smallest footprint. Time‐saving local operation without additional software and hardware – integrated web server. Integrated verification – Heartbeat Technology.
Robust, ultra-compact transmitter housing. Highest degree of protection: IP69. Local display available.

Wetted materials

Measuring tube: 1.4435 (316L)
Connection: 1.4435 (316L); 1.4404 (316/316L)

Measured variables

Mass flow, density, temperature, volume flow, corrected volume flow, reference density, concentration

Max. measurement error

Mass flow (liquid): ±0.1 %
Volume flow (liquid): ±0.1 %
Density (liquid): ±0.0005 g/cm³

Measuring range

0 to 70 000 kg/h (0 to 2570 lb/min)

Medium temperature range

Standard: –50 to +150 °C (–58 to +302 °F)
Option: –50 to +205 °C (–58 to +401 °F)

Ambient temperature range

Standard: –40 to +60 °C (–40 to +140 °F)
Option: –50 to +60 °C (–58 to +140 °F)

Sensor housing material

1.4301 (304), corrosion resistant

Transmitter housing material

Compact: AlSi10Mg, coated
Compact/ultra‐compact: 1.4301 (304)

Degree of protection

Standard: IP66/67, type 4X enclosure
Option: IP69

Display/Operation

4‐line backlit display available (no local operation)
Configuration via web browser and operating tools possible

Outputs

4‐20 mA HART (active)
Pulse/frequency/switch output (passive)

Digital communication

HART, Modbus RS485, EtherNet/IP, PROFIBUS DP, PROFINET

Hazardous area approvals

ATEX, IECEx, cCSAus, INMETRO, NEPSI, EAC

Metrological approvals and certificates

Calibration performed on accredited calibration facilities (acc. to ISO/IEC 17025)
Heartbeat Verification: Heartbeat Technology complies with requirements for traceable verification according to ISO 9001:2008, chapter 7.6. a (TUV attestation)

Pressure approvals and certificates

Hygienic approvals and certificates

3-A, EHEDG, ASME BPE, ISPE, cGMP
Hygienic approvals and certificates
Product headline

Specialist for life sciences with an ultra-compact transmitter.
Dedicated to applications under sterile conditions in the life sciences industry.

Sensor features

Highest process quality – fully compliant to industry requirements. Fewer process measuring points – multivariable measurement (flow, density, temperature). Space‐saving installation – no in-/outlet run needs.
ASME BPE, 3‐A and EHEDG conform & low delta ferrite. Electropolished measuring tube in 1.4435 (316L). Fast recovery from CIP/SIP.

Transmitter features

Space‐saving transmitter – full functionality on the smallest footprint. Time‐saving local operation without additional software and hardware – integrated web server. Integrated verification – Heartbeat Technology.
Robust, ultra-compact transmitter housing. Highest degree of protection: IP69. Local display available.

Wetted materials

Measuring tube: 1.4435 (316L)
Connection: 1.4435 (316L); 1.4404 (316/316L)

Measured variables

Mass flow, density, temperature, volume flow, corrected volume flow, reference density, concentration

Max. measurement error

Mass flow (liquid): ±0.1 %
Volume flow (liquid): ±0.1 %
Density (liquid): ±0.0005 g/cm³

Measuring range

0 to 70 000 kg/h (0 to 2570 lb/min)

Medium temperature range

Standard: –50 to +150 °C (–58 to +302 °F)
Option: –50 to +205 °C (–58 to +401 °F)

Ambient temperature range

Standard: –40 to +60 °C (–40 to +140 °F)
Option: –50 to +60 °C (–58 to +140 °F)

Sensor housing material

1.4301 (304), corrosion resistant

Transmitter housing material

Compact: AlSi10Mg, coated
Compact/ultra‐compact: 1.4301 (304)

Degree of protection

Standard: IP66/67, type 4X enclosure
Option: IP69

Display/Operation

4‐line backlit display available (no local operation)
Configuration via web browser and operating tools possible

Outputs

4‐20 mA HART (active)
Pulse/frequency/switch output (passive)

Digital communication

HART, Modbus RS485, EtherNet/IP, PROFIBUS DP, PROFINET

Hazardous area approvals

ATEX, IECEx, cCSAus, INMETRO, NEPSI, EAC

Metrological approvals and certificates

Calibration performed on accredited calibration facilities (acc. to ISO/IEC 17025)
Heartbeat Verification: Heartbeat Technology complies with requirements for traceable verification according to ISO 9001:2008, chapter 7.6. a (TUV attestation)

Pressure approvals and certificates

Hygienic approvals and certificates

3-A, EHEDG, ASME BPE, ISPE, cGMP
Most downloaded
Operating Instruction (BA)

Proline Promass P 100 PROFINET Betriebsanleitung

New version available in English

Coriolis-Durchflussmessgerät

| | |
| --- | --- |
| Language: | German |
| Version: | 01/12/2015 |
| File size: | 3.2 MB |
| File name: | BA01431DDE_0115.pdf |

Proline Promass 100 EtherNet/IP Description of Device Parameters

English version - 10/2017

New version available in English

Coriolis flowmeter

| | |
| --- | --- |
| Language: | English |
| Version: | 01/10/2017 |
| File size: | 1.5 MB |
| File name: | GP01036DEN_0217.pdf |
158 documents
Technical Information (TI)

Proline Promass P 100

Technical Information (TI)

English version - 02/2023

New version available in English

Coriolis flowmeter

| | | | |
| --- | --- | --- | --- |
| | EN | | |
| | | | |
| | | | |
| | | | |
| | | | |
| | | | |

| | |
| --- | --- |
| Language: | English |
| Version: | 01/02/2023 |
| File size: | 6 MB |
| File name: | TI01036DEN_0622-00.pdf |

Operating Instruction (BA)

Proline Promass P 100 PROFINET

Operating Instruction (BA)

English version - 02/2023

New version available in English

Coriolis flowmeter

| | |
| --- | --- |
| Language: | English |
| Version: | 01/02/2023 |
| File size: | 4.4 MB |
| File name: | BA01431DEN_0223-00.pdf |

Operating Instruction (BA)

Proline Promass P 100 Modbus RS485

Operating Instruction (BA)

English version - 02/2023

New version available in English

Coriolis flowmeter

| | | | |
| --- | --- | --- | --- |
| | EN | | |
| | | | |
| | | | |
| | | | |

| | |
| --- | --- |
| Language: | English |
| Version: | 01/02/2023 |
| File size: | 3.5 MB |
| File name: | BA01059DEN_0323-00.pdf |

Operating Instruction (BA)

Proline Promass P 100 EtherNet/IP

Operating Instruction (BA)

English version - 02/2023

New version available in English

Coriolis flowmeter

| | | | |
| --- | --- | --- | --- |
| | EN | | |
| | | | |
| | | | |
| | | | |
| | | | |

| | |
| --- | --- |
| Language: | English |
| Version: | 01/02/2023 |
| File size: | 4.1 MB |
| File name: | BA01067DEN_0423-00.pdf |

Operating Instruction (BA)

Proline Promass P 100 HART

Operating Instruction (BA)

English version - 02/2023

New version available in English

Coriolis flowmeter

| | | | |
| --- | --- | --- | --- |
| | EN | | |
| | | | |
| | | | |
| | | | |

| | |
| --- | --- |
| Language: | English |
| Version: | 01/02/2023 |
| File size: | 4.8 MB |
| File name: | BA01192DEN_0323-00.pdf |

Operating Instruction (BA)

Proline Promass P 100 PROFIBUS DP

Operating Instruction (BA)

English version - 02/2023

New version available in English

Coriolis flowmeter

| | | | |
| --- | --- | --- | --- |
| | EN | | |
| | | | |
| | | | |
| | | | |

| | |
| --- | --- |
| Language: | English |
| Version: | 01/02/2023 |
| File size: | 4.1 MB |
| File name: | BA01253DEN_0323-00.pdf |

Proline Promass 100 PROFIBUS DP Description of Device Parameters

English version - 10/2017

New version available in English

Coriolis flowmeter

| | |
| --- | --- |
| Language: | English |
| Version: | 01/10/2017 |
| File size: | 1.7 MB |
| File name: | GP01034DEN_0217.pdf |

Proline Promass 100 PROFINET Description of Device Parameters

English version - 10/2017

New version available in English

Coriolis flowmeter

| | |
| --- | --- |
| Language: | English |
| Version: | 01/10/2017 |
| File size: | 1.4 MB |
| File name: | GP01037DEN_0217.pdf |

Proline Promass 100 Modbus RS485 Description of Device Parameters

English version - 10/2017

New version available in English

Coriolis flowmeter

| | |
| --- | --- |
| Language: | English |
| Version: | 01/10/2017 |
| File size: | 1 MB |
| File name: | GP01035DEN_0217.pdf |

Proline Promass 100 EtherNet/IP Description of Device Parameters

English version - 10/2017

New version available in English

Coriolis flowmeter

| | |
| --- | --- |
| Language: | English |
| Version: | 01/10/2017 |
| File size: | 1.5 MB |
| File name: | GP01036DEN_0217.pdf |
Loading more results
Search spare parts by number in drawing
60 spare parts & accessories
60 spare parts & accessories
60 spare parts & accessories
5 products & bundles
One or two-channel barrier for the safe separation of 4...20 mA standard signal circuits

Loading price

Prices temporarily unavailable

Price on request

activating price

price: provide information

Universal transmitter, loop power supply, barrier and limit switch in one device!

Input

2 x universal (current, voltage, R, RTD, TC, resistance)

Output

2 x Analog (current, voltage)

Output

2 x Analog (current, voltage)

Display

LCD
7 segment
Multicolour
Bargraph
TAG unit
Colour change in case of failure

Power Supply

Loading price

Prices temporarily unavailable

Price on request

activating price

price: provide information

Surge arrester for DIN rail according to IEC 60715

Loading price

Prices temporarily unavailable

Price on request

activating price

price: provide information

Saves, visualizes, analyzes and communicates

Input

0...20 universal
HART
6…14 digital

Output

Display

Storage/Recording

internal memory
SD card
USB flash drive

Calculations

Mass/heat quantity
heat quantity difference

Loading price

Prices temporarily unavailable

Price on request

activating price

price: provide information

Universal, high-performance tablet PC for device configuration

Input

2 MP camera on the front
5 MP camera or better, on the rear

Loading price

Prices temporarily unavailable

Price on request

activating price

price: provide information
5 products
One or two-channel barrier for the safe separation of 4...20 mA standard signal circuits

Loading price

Prices temporarily unavailable

Price on request

activating price

price: provide information

Universal transmitter, loop power supply, barrier and limit switch in one device!

Input

2 x universal (current, voltage, R, RTD, TC, resistance)

Output

2 x Analog (current, voltage)

Output

2 x Analog (current, voltage)

Display

LCD
7 segment
Multicolour
Bargraph
TAG unit
Colour change in case of failure

Power Supply

Loading price

Prices temporarily unavailable

Price on request

activating price

price: provide information

Surge arrester for DIN rail according to IEC 60715

Loading price

Prices temporarily unavailable

Price on request

activating price

price: provide information

Saves, visualizes, analyzes and communicates

Input

0...20 universal
HART
6…14 digital

Output

Display

Storage/Recording

internal memory
SD card
USB flash drive

Calculations

Mass/heat quantity
heat quantity difference

Loading price

Prices temporarily unavailable

Price on request

activating price

price: provide information

Universal, high-performance tablet PC for device configuration

Input

2 MP camera on the front
5 MP camera or better, on the rear

Loading price

Prices temporarily unavailable

Price on request

activating price

price: provide information