Endress+Hauser Switzerland is celebrating its birthday.
Sixty years ago, the first Endress+Hauser pioneers probed the Swiss market.
The Swiss Sales Center was established in 1960 at Sternenhofstrasse 21 in Reinach. At that time, business was essentially limited to measuring devices and services. Forty-four years later, the building was demolished to make way for the Sternenhof building, which today is home to several Endress+Hauser organizations.
Endress+Hauser - global presence with local roots
60 years after it was established, the Swiss measuring technology specialist is still on a growth curve with a global corporate network, 14,000 employees, high-quality products and a sound, family-based ethos. The company's success lies in the continuity afforded by a carefully managed family company that is fully committed to meeting its customers needs. "Customer service comes before profits" was the motto of company founder Georg H. Endress (1924–2008), and it continues to hold true today.
Proximity to customers plays a key role here. Today, there are more than 40 Sales Centers and over 70 representatives around the globe selling products, services and solutions from Endress+Hauser, while production and development take place at manufacturing sites in 12 countries.
Despite its global presence, the company is firmly rooted in the region. In Switzerland, we are served by four large production centers located in the tri-border region:
Endress+Hauser company history
From small and modest beginnings, Endress+Hauser has evolved into one of the world's leading suppliers of measuring instruments. The company was founded on February 1, 1953 in a backyard in the Swiss city of Lörrach by Swiss engineer Georg H. Endress and German banker Ludwig Hauser. Two years later, the first level transmitter was patented and very soon these innovative measuring devices were making a name for themselves in the industry.
Discover more about >>> Endress+Hauser company history.
Who we are: Endress+Hauser Switzerland
Approximately 110 dedicated employees are on hand to support you every day with a wide range of measuring devices, services and automation solutions. Most of these employees are based in Reinach. However, our field sales force, which is spread throughout Switzerland, ensures that our customers who are located further afield can also benefit from fast response times.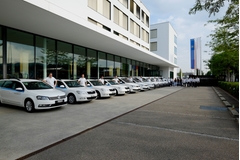 Wherever they are needed, our Service Team is at your service.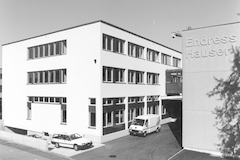 Looking back: The Sales Center for Switzerland was founded in Reinach close to Basel, in 1960.
Today, our offices are located along with those of other Endress+Hauser organizations in the Sternenhof building in Reinach.