View RFQs, quotes, orders and re-order products easily
My ch.endress.com
All transactions are available online, no matter if ordered online or not. Download your various documents and check past orders or the status of current orders. Re-ordering of complete orders or single items has never been easier.
Benefits
Overview of the order status in real time, no emails, no waiting

Quick re-ordering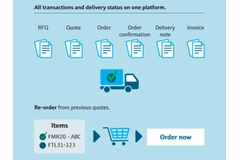 Everything is right here on ch.endress.com!
Click "My Account" at the top of the screen and select "Register" to request your account. Or simply click the button below on this page. After our team verifies your information, we will send you your personal account login information.