Find the most suitable product that fits your application
My ch.endress.com
Select and size online the best product that fits to your industry specific application. Enter your parameters e.g. flow, pressure, level, temperature and get recommendations of best suited products. Compare them and make a safe decision. Once this is done you can start configuring the product. 2D drawings and 3D models are available in the common CAD data formats.
Benefits
Recommendations are based on specific measurement requirement

It is reliable, precise, simple and easy to use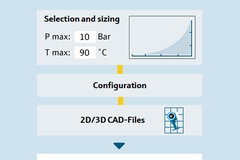 Everything is right here on ch.endress.com!
Click "My Account" at the top of the screen and select "Register" to request your account. Or simply click the button below on this page. After our team verifies your information, we will send you your personal account login information.